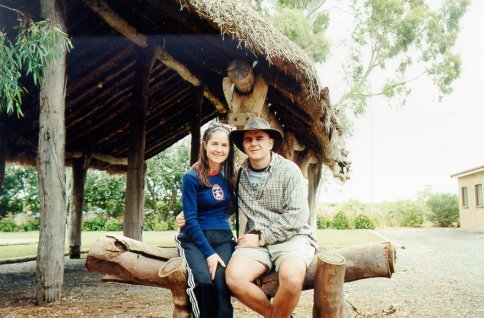 Enjoying an Aussie Christmas.
Well, here we are at the beginning of 2004. We decided to write a New Years letter instead of a Christmas one because we had so much going on in the months before Christmas. So without further ado, here's a rundown on the year just passed…..
We started 2003 in Orrville, the home of Kevin's parents and the place where he grew up. Des's Australian friend Bec was visiting for the holiday season, and among other wonderful customs we were able to take her ice-skating on the pond and sledding down the hill….she handled it all so well. It was the start of a cold winter and the beginning of Des's new seasonal career as a snowshoveller.
The first months of the new year Des also started her first Occupational Therapy job here in the US. She works for Lake Hospital system. Last year she spent most of her time going between the hand therapy clinic and at one of the hospitals. The hand therapy experience was new to her but she ended up loving it. The hospital work was similar to what she was doing in Australia. She works PRN, which means they call her when they need her (actually, nearly every day) and she has the choice to go in, or refuse work for that day. The advantage for us in her having this kind of job, is that she is able to take vacation at any time. As you will see this has come in handy.
Kevin continues to work in medical imaging designing CT Scanners. The latest name of the company is Philips. He seems to find himself in the unofficial capacity of fix it man and help desk also. This year he inherited a laptop from work, so every now and then he can work from home, which is really nice. One day we hope that he will be able to work from home and go into work occasionally.
Kev's work have sent him to various places throughout the year. June was the main month of travel, with nearly two weeks in Germany and a weekend in New Orleans. Des was blessed enough to join him in Germany this time. We had a great time with Des's host family from when she was an exchange student. As soon as they discovered that Kevin liked beer, he had a new variety on the table at every meal except breakfast. We also had the chance to explore some of the WW2 sites and "older than the US" sights.
Another reason for travel was music. We decided that we wanted to try and play one concert a month in 2003. We played in Columbus, (2 am youth lock-in, Des will never attempt a stay awake caffeine fix again) a Massillon church coffee house, Wooster Center for the arts, a charity benefit in Cleveland, another church in Columbus and one in Upper Sandusky. We now have our own website so hopefully more people can find our music: www.KevinandDes.com. We also joined a group called the Searchlight Ensemble. This is an 8 person group, playing Christmas music, with instruments such as violin, harp, Irish whistles, bass, drums/percussion, electric and acoustic guitars, and keyboards. The two of us also sing on some songs. (You can hear music samples at www.searchlightensemble.com) We recorded a CD and played some large concerts with the group, with venues in Ohio and Indianapolis. We played two concerts which were broadcast on the radio, one statewide and one nationwide. As you might imagine that was part of what made December busy.
In addition to that travel we took other trips for fun: In April we took trip to the West to see Kevin's family. We visited his brother Scott and his fiancée Clara in San Francisco, California and we visited Kev's paternal grandparents and nearby Uncles, Aunts, and cousins in Tucson, Arizona. It was wonderful to spend time with the kin and both states have very distinct beauty. The countryside around San Francisco is very lush and some of the city areas have real charm. Arizona remains Des's favorite state with it's rugged wilderness charm.
We also skipped over to Ada, Ohio for a Sons Rays reunion in May, and drove to Michigan soon after for Kevin's sister's graduation. In June we made the annual pilgrimage to Camp Luther with Kev's family. We also took a camping trip to Pennsylvania in Autumn and made a quick trip out to Iowa to attend the baptism of Des's very large God daughter Greta. :-) Her parents were on Watermark with Des, and they too are like family.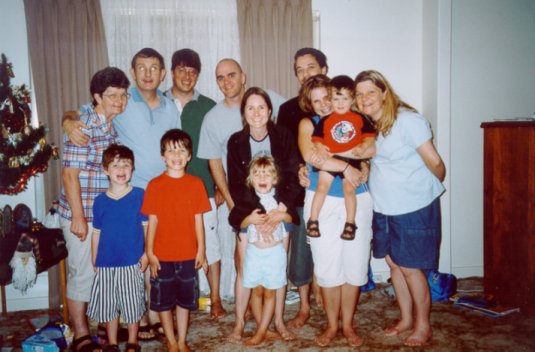 The whole Beh clan in Gawler.
However, the biggest travelling effort was our trip to Australia for Christmas. Des's family all gathered in the parsonage in South Australia. (all 12 of us!) We had a fine warm Aussie Christmas. It was the first time that Kev had spent any length of time with the kin, and he was unanimous hit. His niece and nephews spent a good deal of time jumping on him and he formed a solid support group with the other lads who married Beh girls. :-)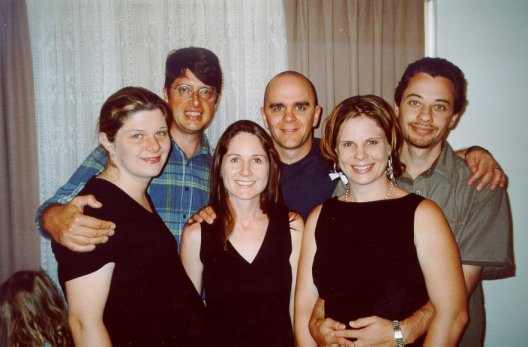 The Beh Girls, plus husbands.
Other than that we have been working on the house little by little. We had the windows replaced this year, and remodeled the laundry. Kev has taken to building and fixing things, so there is plenty of activity in the garage workshop. We are slowly taming the yard and nearby fauna, and we continue to read a lot.
We have been well this year. Kev has had the all clear with his follow up scans, and this will, Godwilling, continue. Des had her turn in the dentists chair to have her wisdom teeth out. She was swollen up like a Chipmunk for a while….
Among our family there have been a few happenings:
- Kev's sister Karen married Matt Wayt in August, and they have moved to Erie Pennsylvania, which is an hour from our house. Matt is studying to be a Physician's Assistant and Karen is working and studying counseling part time.
- Des's sister Jo is pregnant with # 5 Mitchell.
- Kevin's brother Scott has become engaged to Clara, and will marry in July in California.
Whoooooa that was quite a busy year, Godwilling it was also a blessed year for you. We remembered you, our friends and family, often through the year gone and we will continue to keep you in our hearts. We hope to keep in touch.
Love, Des and Kevin.

"He has come that we might have life, life in all it's fullness."