Here we are again with our Christmas/New Year letter. (Depends a bit on where in the world you live as to when you receive it….) We have had another full and happy year this year so here is the rundown:
Music continues to be a big hobby. We played at various venues this year: Quite a number of weddings, a couple of wedding receptions, fundraisers, a minor league baseball game, and with the Christmas band "Searchlight". Searchlight in particular did really well this year. It is a lot of fun to be in a band with such good musicians (who also happen to have a marvelous sense of humour) Kevin has been working on our website : www.kevinanddes.com so you can take a look at further progress with that. We are still hoping to record another CD together…perhaps in the new year.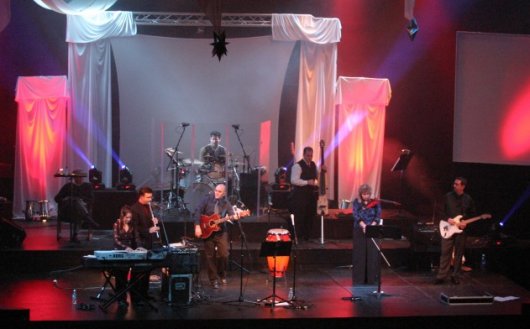 The Searchlight Ensemble in Indianapolis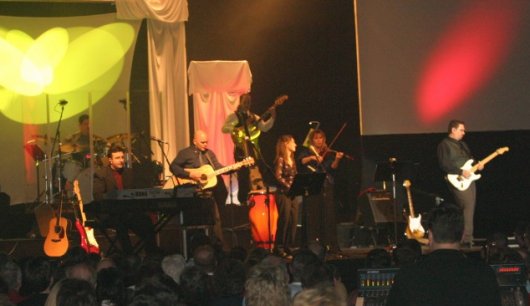 Searchlight in Indy
Also running a good race in the hobbies department is home improvement and woodworking. We had the outside of the house painted by professionals (Thereby removing the last traces of 70's harvest gold from our everyday life). However, the two of us also built a fence for the back yard, refinished the front fence, built a wood rack for the side of the house, sanded down and painted the downstairs room and Kevin also paneled and made "built in bookshelves" in that room, in the continuing bid to keep up with our book reading habits. Kevin is the chief wood worker, this mostly takes place in Wood-world in the garage (Also known as "Florida" since we bought a very effective Kerosene heater for the winter months). He has become very handy with his ever-increasing stash of tools. Des has decided her mission is to keep him well supplied with appropriate safety items to match the tasks (and to keep the sawdust out of the vents in her car).
Kevin's work at Philips continues to go well. He seems to be well appreciated for what he does, however he also maintains, that the unfortunate upshot of doing well is that people give you more to do…. He made a few trips in the second half of the year: Israel, Vermont, China and Charleston in South Carolina. He has gotten into the useful habit of finding fun presents in the overseas locations. This year he found some dead sea moisturiser in Israel (admittedly the source doesn't sound promising, but Des is the envy of the others in her office). He also found a lovely Chinese dress, which came in handy for Searchlight this year. He was disappointed with his search for falafels this time in Israel, but he was introduced to cow stomach and eel in China (though he says that's not quite a fair trade).
Des took on another job at a nursing home to add to her current work with Lake Hospital System this year. She loves the elderly so it makes a good supplement.
We have had a couple of "reunions" this year. Des's high-school friend Ali, who now lives in England, came for a wonderful visit around Easter time, followed by some Aussies from Des's church. She also has managed to find some old chums from New Zealand over the internet. Kevin's reunions consist mainly of things that he has found after Des put them away, often in useful safe places.…..
Our families have been busy this year. Kevin's brother Scott married Clara Chan near Yosemite national park in California this year in July, so we all made the pilgrimage out there and had a vacation in the process. The wedding was at Mono Lake beach, with mountains and salt rock formations in the background (would you believe, they are both geologists?) We had a lot of fun with Clara's family too. The camping holiday (with Kevin's immediate family, plus uncle Glen and Aunty Karol, and a guest appearance from Katie Kropf and her friend) was one of the most hilarious times ever spent in the wilderness (something to do with bears, golf balls, trees in special shapes and disposable clothing….). It was also very beautiful, and Kevin's favorite hiking spot of all time, since there were plenty of high places to climb up to, and the effort was rewarded with fantastic views from the top.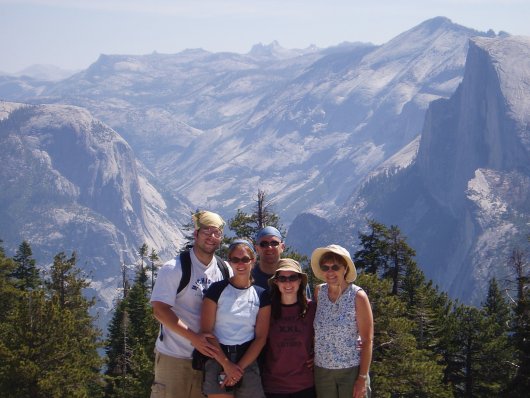 The Family in Yosemite.
That holiday was also made unique because poor Kevin's dad had torn his Achilles tendon a few weeks before and was therefore on crutches….he was such a good sport, although near driven mad as he was limited in his ability to explore and challenged with crutch walking on the beach at the wedding.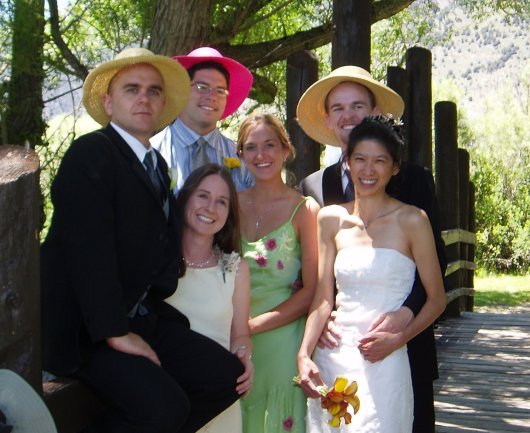 Hats were the "in" fashion item this year in California.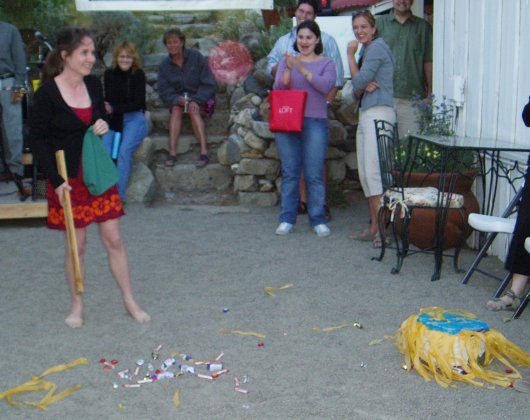 Des let out her agression on the wedding pinata.
Des's older sister Jo had another little girl, Anna, in February this year- a leap year baby. The whole family appear to be doing well. The kids emerging as clever little musicians who pray for people left right and centre. Des's younger sister Rach and her husband Colin are doing well and are planning a trip over to snowy Ohio next Christmas. Des's mum and dad continue to move around Australia helping out congregations in transition. They have had a few health struggles, but Godwilling they will get on top of those soon.
We have been doing our bit to build up the family too in the last few months, we are well on the way to adopting a baby from Guatemala. Hopefully that will come together by mid next year. Amazing the sorts of things you have to do for all this: we now have fire extinguishers and an escape ladder in our house as well as a detailed escape plan. We have multiple copies of our important documents and babysitting and romantic get away plans in place…. Still, all for a good cause.
So we are continuing on quite happy and well, enjoying our marriage, our families, friends and hobbies because God has been so good to us. He seems to be all about giving with Jesus at the heart of it. Happy Christmas to you one and all!
With love and well wishes,

-- Des and Kevin

"He has come that we might have life, life in all it's fullness."