&nbsp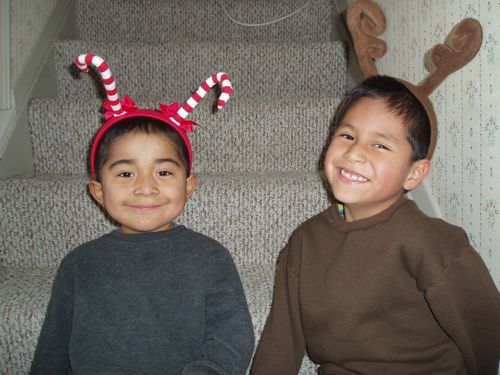 Merry Christmas!
Hi Everyone,
We are back after a busy couple of years it seems!
Life looks a bit different for us these days. In June of this past year we moved 30 minutes away to the small town of Chardon, in the middle of Ohio's snow belt. It's about the same distance to Kevin's work, but a little more country and a little more space. With the wettest year on record for Ohio, so far we have mostly just seen rain and boggy ground, but we will most likely have snowy photos for the next letter. We thank God for our beautiful block of land and our lovely home. Our favourite parts about it are:
a long driveway for good bike-riding
plenty of space to run and explore
lots of room for dinner guests and for visitors to stay overnight
A brand new workshop for Kevin
Spaces where we can play music once the kids are in bed and not keep them awake.
Sunny, cosy rooms
Wood floors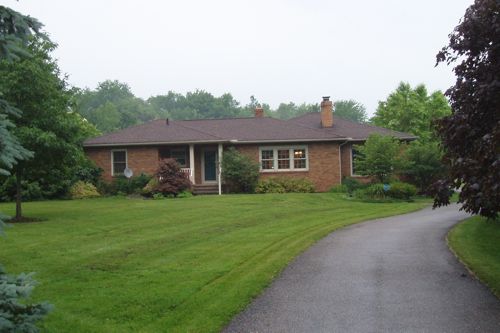 New House.
Since we last wrote, Sam has started school. He was a mother's dream - brave and excited hopping on that school bus. Fortunately for us, we had a couple of good hearted, familiar neighbour boys that got on too, so that softened the blow. He is into his second year now, and he especially loves his Grade 1 teacher. (For those of you who are used to a different schedule Downunder, our school year starts at the end of August). Mrs. Haines is a really lovely lady with a tonne of patience, who seldom raises her voice. She is a great match for Sam. Sam has proved to be quite popular among his peers, and in fact among the girls... came home the first day proclaiming he had a girlfriend and bearing candy gifts the following week.... will have to keep watch on that one. He is doing well at school and the teachers have said he is a joy to teach. So what a blessing that is for us all.
Apart from swimming lessons over the summer, we have been reticent to start him on the bandwagon of sports yet, but he has started with Cub Scouts, which Kevin has been attending with him, and he will start a basketball class in January. He has had a few "moments" adjusting to all the changes, and dealing with pain from his many teeth that are being replaced. We are still working on helping him express his anger and frustration in a healthy way, but he has settled into a lovely stage, more able to accept reasoning and explanations, and more motivated to get along with other kids and enjoy playing.
| | |
| --- | --- |
| | |
| Still having fun with dress-up. | Proud Cub Scout. |
Jordan has also had his new beginnings with Preschool. Perhaps not quite as gung-ho as his brother, but he has enjoyed it regardless, and is eager to learn. He has made friends too, so we are blessed to have two happy school boys. He is at a Christian Preschool this year, and it has been nice to see him come home with new Bible knowledge and to have less focus on Halloween and more on Thanksgiving and Christmas! He is also a favourite among the girls in his class, though thankfully there is no talk of girlfriends there. Jordy attended swimming lessons this summer too, and LOVES the water. It is fun to see his courage in that area, though we have to keep vigilant watch as he is still a lacking insight into his limits at this stage.
We have also discovered, after some time of Jordan not being able to be very physically active without some pain at night, that Jordan is flat footed and has hypermobile joints. The good news is, that it is not arthritis, and that we finally know what's happening. The not so flash part, is that he will probably have to live with some degree of pain from this. But there are some ways to improve things with footwear and by being aware of jarring his joints. (As soon as we can stop him from jumping off high places we will be well on our way). One of my favourite times of the day with Jordy is just after Sam gets on the bus. He and I walk back to the house and have a cup of tea (yes, him too) and read the Bible. He is a very companionable soul, and he is also curious about God, so we have some profound chats over tea. In the evenings we all sit down to have a family devotion time, and it has been moving to see how the boys are coming to love God and to care about others and the world around them.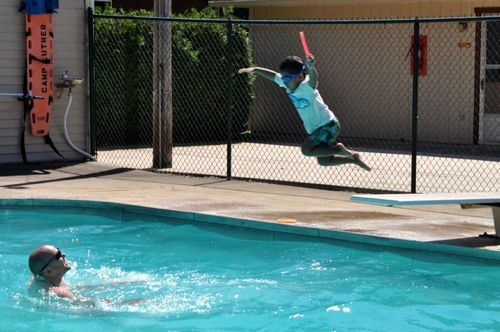 Jordan taking the plunge.
| | |
| --- | --- |
| | |
| Still a Daddy's boy. | Helping in the Shop. |
As far as getting along goes, Jordan and Sam are pretty good mates, and (you will be relieved to know) have worked out a system between them to save the world with their super powers.
Our little heroes.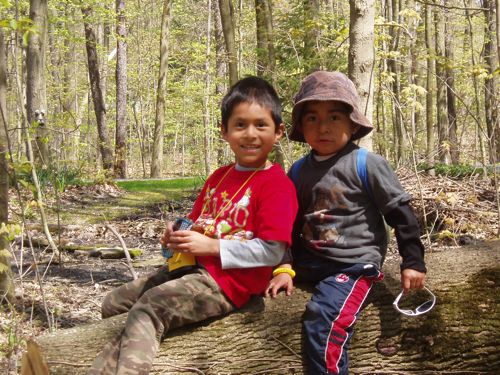 Sometime Buddies.
Kevin has continued to do well at work. He has written a good number of patents since he started with Philips Medical Systems, although he also reminds me that the reward for doing good work is usually more work to do.... He continues to love woodworking, and his new shop is taking shape nicely now. Still needs to have insulation, drywall and electricity installed, but it is coming together. Behold the man cave.......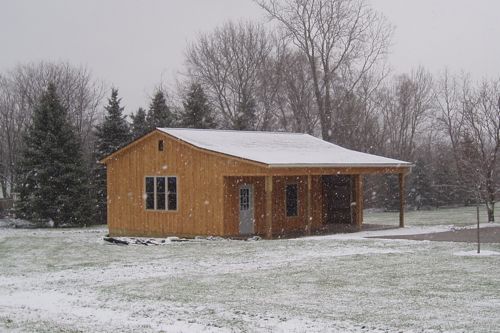 The new shop.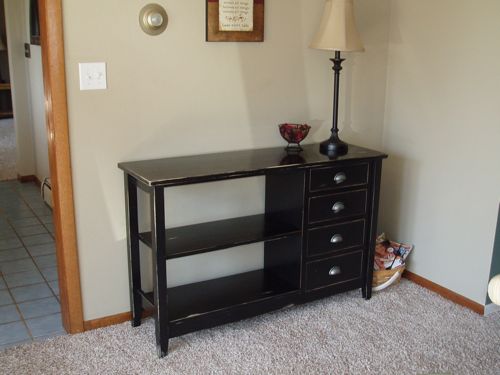 This year's shop output.
I have continued to keep the home fires burning over the last 2 years, though I was also blessed enough to embark on the journey of recording again. Amazingly it was my Aussie producer and friend Andy Voigt who jump started things yet again, despite the distance. It took me a year and a half to finish the project, but the third Des CD is now complete. This time, we are excited to be donating 50% of sales to Guatemalan Community Projects of the Central American Lutheran Mission Society. (Most of you will remember that we adopted our boys from Guatemala) God has placed this country in our hearts, as we gratefully raise our boys. The rate of malnutrition among the indigenous people (both of our boys are indigenous) is above 70%. Unemployment is high and it can be a dangerous place at times. So there is a good deal of need. In making the CD, we were blessed to have the help of some of my good old Aussie friends, plus some talented Americans. The style is a mix again, with classical, bluegrass, bigband, rock and ethnic inspirations all coming through. As previously, the songs are once again mostly my own. Among those, there is one composed for my boys - featuring Jordy on the intro, another for my father and a version of "In Thee is Gladness", which is Mum's favourite this time. My good husband has a website set up, so if you are interested in learning more, you can check it out or buy a CD at www.kevinanddes.com.
| | |
| --- | --- |
| | |
| Des on the rattley century-old piano we used for "Sleep Tonight". | Bill and Kevin recording "Gladness" |
Fruits of Des' labors.
We made a trip back to Australia for Easter this year, which was another highlight of the past years. We had a lovely time at the beach and being together. It is always a thrill for me to see my sisters, and to have our kids play together. We from the Beh clan are all relatively well. Jo and her family moved to a bigger house earlier in the year, and are enjoying a bit more space and a lovely pool. Her kids are all in school now, so Jo has picked up a number of piano students, though she also remains a very busy mum of 5.
Rach has had a few struggles with her health over the last couple of years, but she remains fit and active nonetheless, is a gym instructor, and continues to surprise us all with great performances in long distance races. Her oldest daughter Kaitlyn has just finished her first year in the school system and is a dear, sincere soul, and Sienna, who is remarkbably like Rach, is the only 2 year old girl I know, who has had a Star wars birthday party! Mum continues to take a lot of joy in being a part of Rach's family life.
Mum is pretty well, keeps active in church activities. She has recently had her hearing tested, and will soon be fitted with hearing aids. I have my hearing tested next week, so maybe mum and I will be comparing notes! (Fortunately for me, it is low tones, so I can still play music, incase you were wondering what kind of a CD I have made!) She and her sister Daph, who lives in Bundy too, are good mates. Last year they helped move my Grandparents to a nursing home, and helped sort out the sale of their home and property. It was a pretty gracious move, for those 2 fiesty Aurichts who have been independent for so long. It seems to be hardest on Nan, who was watering her garden and cooking to the very last day. Our good Uncle Jim, (Dad's brother) has had a few health hassles this year too. We are hoping that things will ease up a bit for him soon.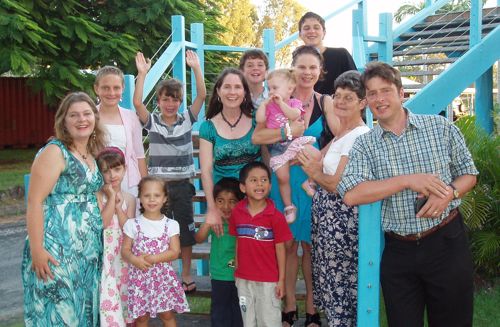 Beh Fam.
| | |
| --- | --- |
| | |
| The real Crocs! | Not A Poisonous Snake. |
Did we mention they liked the beach?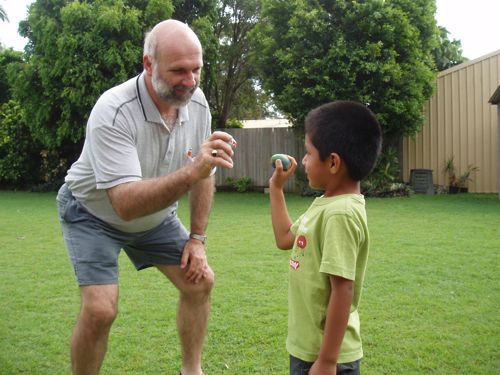 Sam taught Uncle Jim the finer points of egg fighting.
On Kev's side of the family, since we last wrote, Kevin's dad has remarried. These transitions are never easy ones, and his mother Barb is still much missed, but Sharon is a good hearted soul, who loves her family, and who has been eager to love her new family too. She has been very kind with watching our boys while we were recording, and we have grown fond of her and her extended family. She is Lebanese, so the melting pot that is our family here, is growing even more lovely with it's colours.
Camp Family continues to expand.
Kevin's sister has had her third son, who has grown into a blond curly haired delight! (though he recently had his first serious haircut much to the wistful sighs of his mother and female relatives) Her other boys are growing like weeds, and are smart and athletic like their mum and dad. Their oldest Kaleb will start school next August, and Kellen is in preschool too. We see them about once a month. Scott and Clara continue life out in Delaware. They are doing well, and though we don't catch up often with the distance, we are always glad to see them. We are very blessed to have other close extended family here too. Kevin's Aunt Karol and Uncle Glenn, plus our close family friends the Tuckers and the Kropfs are so much a part of our family concept that the boys wanted to buy presents for them for Christmas.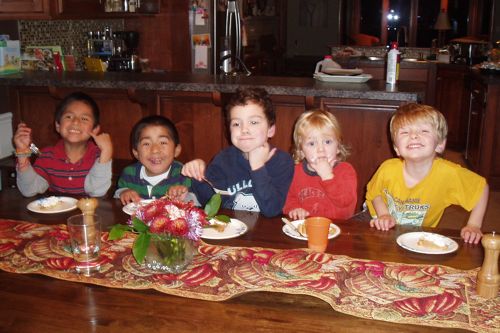 Cousins at Thanksgiving.
I will finish off with a collection of words that sum up what has been going on at our house just lately.....
Rain, Excavators and our Amish friend John (Installing the new septic), Dumptrucks, Cement trucks, Builders and Electricians, Rain, Advent Calendar, Candle smoke, Veggietales, Spiderman, Batman, Green Lantern, knock knock jokes, Star wars, Light sabres, Narnia, Laura Ingalls Wilder, Rain, Candles, Christmas tree Ornaments, Baby Jesus, Shepherds, Des' CD, Workshop, Spelling, Sight words, Rain, Decodables, Homework, Cough medicine, Secret Identity, Little Bull, Bikes, Mud and Gumboots, Reading and writing, Rain, Dinosaurs, Pirates, Rain, Crafts, Aliens, Nutcracker, Costumes, Hiding, Running, Giggling, Washing, the smell of Bread and tea and Reading together.
We are thankful God has given us all we need. Prayers for blessings to you who read, and for all of us, that we may be generous in our thanks to God, and in our lives as we are able.
Love to you, and a Very Merry Christmas,
Des, Kevin, Sam and Jordan.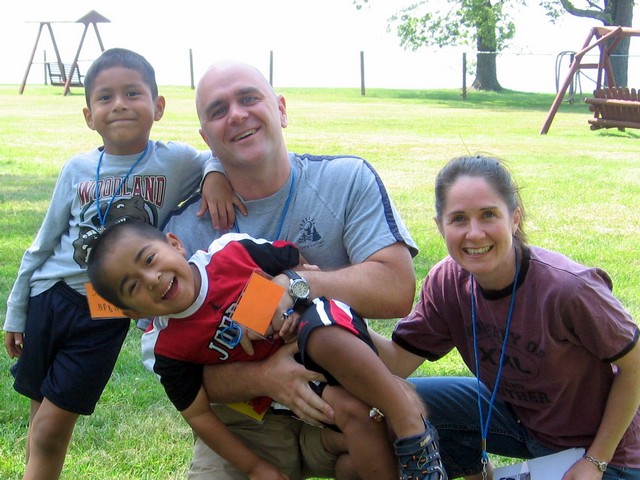 A family photo with everyone smiling!
p.s. - in case you missed the letters from the past few years, you can find them all here.
&nbsp