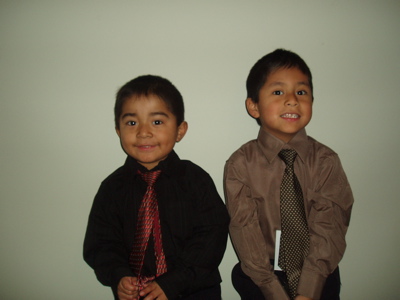 Merry Christmas!
It is a little less than 2 weeks until Christmas. This year we found 2 great babysitters, so that would be why it's a possibility that this will be complete before Christmas....

The highlights of this last year have been:
In March we "re-adopted" Jordan. This is a court process which basically re-finalyses the adoption in a US court. This means that Jordan is officially named Jordan, is recognised as an American Citizen, and allows us to have a birth record which is standardised for the USA. It was also an important step along the way for us, as we wanted to have a US passport for Jordan, when we travelled to Australia. We were fortunate enough to have gained acquaintence with the organising court clerk, as things were pretty tight with getting things processed in time for our Aussie trip. She ushered things along in the most wonderful way, God bless her.
At the end of April we made the trip home to Australia. Made all our flights this time. Sure makes things interesting with the two little fellows. Flight times out of the US to AUS are always late at night, so we had the chance to find out how extreme tiredness would look on our boys. Dear Sam got a little grumpy, then a lot snuggly, then was out cold in the waiting lounge. Good old Jordy on the other hand, was running circles around his dad at the equivalent of 1 in the morning...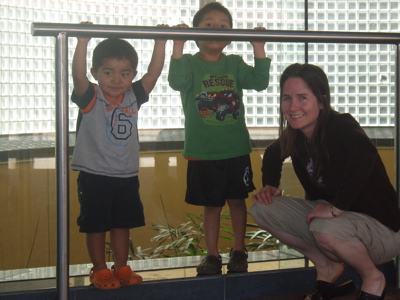 Waiting for the train in Brisbane.
We spent most of our time in Queensland this time. Did a lot of catching up with family, also spent some time at the beach, visited some animal parks, and did the infamous Bowes Ute back farm tour with 5 star lunch at Nangandi. Jo and her family had been staying with mum, so we got the chance to see just what the extended Rodney and Annette Beh family looked like. Bitter sweet to know all those cousins seem to get along well. Would have loved to see Dad presiding, and is just hard to be so far away from family. Mum's sister Daph, and her daughter and family also live in Bundy, so we had some fun times with them too. And we did manage to catch up with both of dad's brothers during our visit, which was excellent. The boys got a real kick out of being with them, and for me, it is precious to maintain that contact with dad's family. The last leg of the journey was a trip to Mum's parents in Sedan South Australia. That last leg was especially full. Started with a catch up time with Des's old workmates and Music buddies, then a quick stop at a hospital for a research group to draw Des' genetically interesting blood (Over the last year or so, it became apparent that the Beh family have an unusually high rate of incidence of rare blood disease).
| | |
| --- | --- |
| | |
| We met all the family. | We saw snakes and crocs! (this croc was the only one you could touch) |
| | |
| We rustled the cattle! | We danced! |
The visit with Des grandparents was special. So many memories for her in that place. They are still managing remarkably well, though are now reluctantly accepting more help.
The house hunting/selling journey has been an interesting one. We are still in Mentor on the Lake, though not for want of unsettling events that could have changed that... We have been interested in 2 homes in Orrville, and both times, the owners withdrew their offer to sell before we could get anywhere. We have looked at plenty of other places, but nothing else has fit just yet. We did have an offer on our home too, but it came the week before we were due to travel overseas, and would have required us to be out 3 weeks after returning, (Without any place set up to go) So we ended up taking it off the market. It seems that God has closed that door for the meantime. We'll see what unfolds. We still hope to move before school starts for Sam, so that he is not disrupted once he starts. We do love our home that we have now, but it feels mighty small in the winter, and is not well set up for hosting. Others in the family here however, have had much ado with housing. Kev's brother Scott and his wife Clara bought their first home in Delaware. A big step for those 2 who have lived itinerately for a long time. Kev's dad has built a new home in Orrville, which will be completed early in the new year. Kev's sister Karen and her family are remodeling and moving into the Brown family home. So lots happening.
Church Camp was once again a fabulous family event. We continued with the new tradition of attending with the Extended Wayt clan. Kev's sister Karen married Matt Wayt, and the Wayt clan now includes a compliment of 7 grandchildren under 6, one of whom is a girl. Add our boys to that pack, and it makes for some wonderful boy times. Karen and Matt announced too, (to the shock of Grandmother Wayt) that they will be adding to the numbers in Feb next year with another little fellow. Kevin's Dad and his fiance Sharon were able to be with us most of the week too (They were engaged early this year).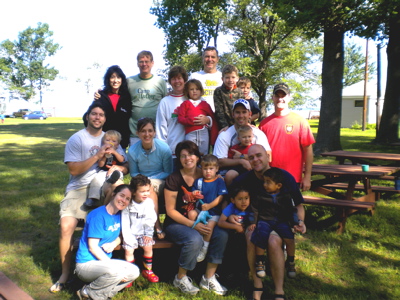 The Big Crew
Speaking of children, Des' sister Rach delivered another healthy little girl in August: Sienna. Such a good lot of bonny cousins.
Baby Sienna
We also found a bit of time to do some tent camping - for a few days on Lake Michigan with our friends the Matthias', and a quick trip over Labor Day weekend on our own to PA. Sam asked a few days ago if we could go again, so it was apparently a big hit with the boys.
| | |
| --- | --- |
| | |
| Girls & Boys | Sunset on Lake Mich |
Kevin continues to love his woodworking (when he can find the time). This year his projects have included completion of a toy chest, a beautiful entry way table, starting on a work bench, and he hopes to have a cabinet for Jordan's room finished by Christmas.

The R. H. Beh memorial garden was in full swing again this year. Such fun to have the boys in on that. They are particularly excellent at harvesting.....a good percentage of it is eaten before it makes it's way into the house. New crop this year was Edamame.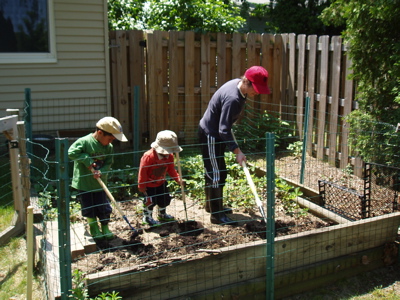 Little farmers at work.
The boys are growing up in a very boyish fashion. Some of the ways they love to play are:
riding bikes
digging in the sand pit
with cars,trucks, trains
with playdough
pirates.
knights
| | |
| --- | --- |
| | |
| Of course we have swords! | Me too! |
Sam continues to develop well. Physically, he is about average for an american kid, but is a tall Guatemalan. He continues to be very clever, and his memory is stunning. His imagination is well worth seeing in action too. His musical ear continues to develop also. He has definate ideas about music, and currently we are listening to a lot of German folk music. :) We have continued to have some behavioral challenges this year, but we have found a wonderful Christian counsellor to help work on parenting strategies with him.
| | |
| --- | --- |
| | |
| Laughing. | Hamming for the camera. |
Jordan has been growing in leaps and bounds this year. His vocabulary is excellent, and he loves to have a chat. He is a very sweet fellow. Spontaneously affectionate and loving to mum and dad, and devoted to his brother. He is still working on his S's, which makes for some very cute little conversations.... He is a robust boy. More typical for a Guatemalan in height, still a little on the Gordito side. I think he is going to be more of the built like a brick type, but a gentle brick....
| | |
| --- | --- |
| | |
| Our little fish. | Sweet. |
Music wise, things have been fairly quiet. We did make one fun road trip out to Ottawa for a great little concert and some great babysitting (thanks Samuelsons!). God willing there will be a little more happening next year.
Well that is a fair lot to read on us. Hoping and praying that this finds you and your family well. God bless and keep you in this Holy Christmas season. As our boys act out the nativity in a very spirited fashion, it is good to retell the old story and remember just what it really means for us.
Love, Kevin, Des, Sam and Jordy.
p.s. - in case you missed the letters from the past few years, you can find them all here.