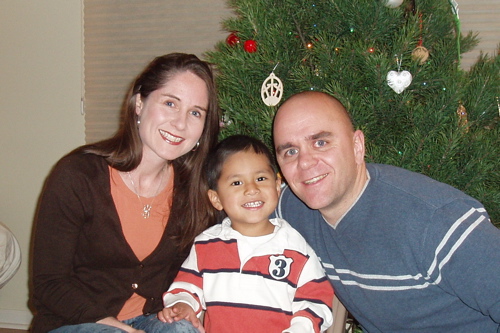 Merry Christmas!
Another year is near it's close, and it is time to be in touch with friends again and recap the highlights and other events in our life together.
The year started with 2 events: an adoptive families Christmas party and a healing service. The first is an event run annually by our adoption agency, where hundreds of multi-coloured children duck in among tables of proud adoptive parents. It is amazing to behold really, and for Des especially, very moving. The second was a special private service at church where we prayed for Kevin's mum. She was diagnosed with Pancreatic cancer late last year. The Service was a blessing to all of us, and the Lord's hand of mercy has been on us this year. We have had a good year with Mum, sharing many happy memories. She is now a lot more frail, but we are grateful for each day we have.
February heralded a trip back downunder. We met Des' Mum, Uncle Jim, Sister Rach, Colin and their daughter Kaitlyn, and Sister Jo in New Zealand for a nostalgic tour. It was a special trip in many ways, especially meeting "Kaitlyn blue eyes" (as Sam called her) for the first time. We started in Auckland, then continued on to Hamilton, Rotorua and Palmerston North. We met with many old friends and visited various old haunts. We did a few cultural things while there too, Sam especially loved the Maori carvings and concert. Sam has since decided that he was born in Guatemala and "Z-Z- Zealand". The hardest part was, it was just too short a time..... (and admittedly I was a bit ambitious with our itinerary). The revised goal for next time is to meet in one place and stay there.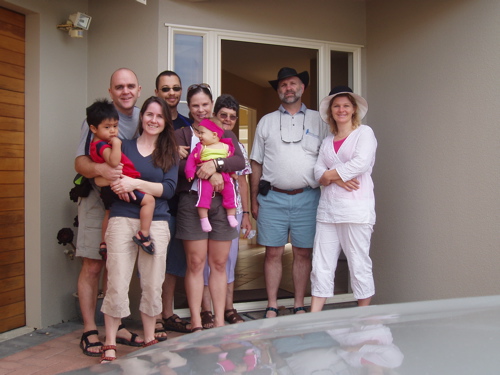 The merry Beh family on holiday.
| | |
| --- | --- |
| | |
| Highlight of Sam's trip. | "Touch-a-man" was a great game. |
After NZ, we went on to visit Brisbane (Uncle's home) and Canberra, where Jo's family live. The visit at Uncle's home was brief, but Sam has been talking about JimJim's house ever since, and will ask us to talk like JimJim periodically. It was good to see Jo's family in Canberra too, and Kevin and Des enjoyed a valentines day dinner cruise on Lake Burley Griffith in Canberra city.
| | |
| --- | --- |
| | |
| Befriending the locals.. | Jim-Jim hat |
A romantic sunset.
Most people ask about the flights... well in short, Kevin does not wish to take a 2 year old flying again. Sam was as good as a 2 year old could have been... but it is just a long haul. (That coupled with the unfortunate perils of a missed connection in LAX, and a stomach flu the day before we left Australia.)
March through to June, we kept things pretty low key, Sam continues to be a boy who loves to be outside, so we got out as often as we could. The veggie garden survived another year despite Sam's many efforts to excavate the area. He is still very fond of all things moving, but if they happen to dig as well, all the better.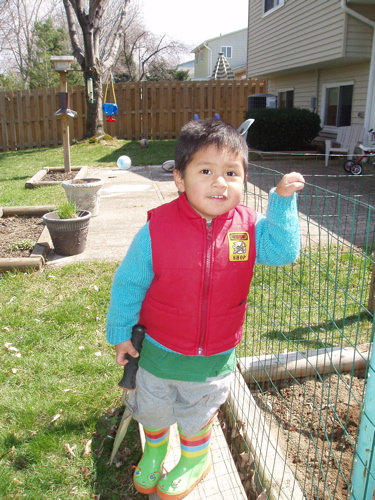 I'm ready to dig!
Sam continues to love to read. So it was a natural progression that we started attending the public library story time. He absolutely loves it there, and is on a first name basis with all of the librarians now. There is one in particular, Terry, who gives him a pickle every time he visits. Somehow, he must have a charming "feed me" face, because he has also become fast friends with Jeanie, a checkout lady at our supermarket, who slips him M&Ms nearly every week, and Barb our mail lady who leaves him cookies every few days.
Another noteworthy part of our routine is the weekly rubbish (trash) collection. Sam recognises the sound of the truck from anywhere in the house, and runs to the window to watch as if his life depended on it. This is followed up throughout the week with regular rubbish collection events in the home, which usually leaves rubbish bins upside down, just like the Rubbish guy.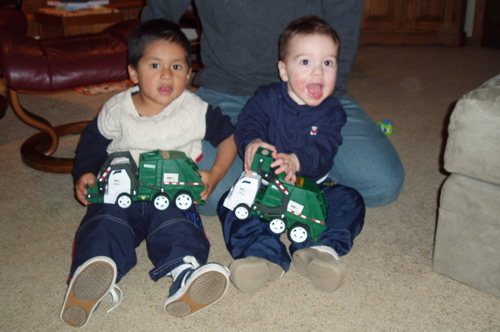 Rubbish guys in training.
We also made friends with a woman from Kazachstan and her daughter this year (Tatiana and Sasha) We now have regular play dates and toy exchanges with them. We also continue to enjoy our friends the Cousens and Anna.
June is Family camp month for the Brown family, so we all gathered for a week of sunshine and outdoor life, with plenty of routines and activities to capture Sam and Kaleb's attention. We visit Orrville often so Sam and his cousin Kaleb have become good buddies throughout this year, and especially in the last months have become hilarious to watch in action.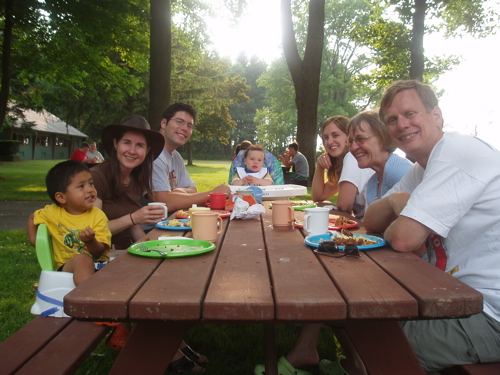 Pinicing at Camp
Just wait till they can drive...
In July, Kevin's work sponsored a company picnic at an Indian's baseball game. Sam was much impressed with the experience, and came back telling us that he had watched Swingpot. Still at a loss to know where that came from.
Sam is well advanced with his speech. He is articulate, and (proudly for Des) sounds mostly like a kiwi. He is a smart little cookie in other ways too. He learned all of his letters and numbers quite early in the peace, and now reads some 2-3 letter words. He also enjoys learning Spanish. He has a mind like a steel trap, so that makes things interesting too.
In August we went on a camping trip with friends in Pennsylvania. Sam was totally in favour of sleeping in a tent, and of the gravel where our friends parked their camper. (Gravel being particularly useful to the avid excavation fan.)
In the Autumn, Sam and Des began making regular trips to the local orchard. Des decided that she would try her hand at dehydrating fruit, so they made many trips ( especially once Sam discovered that they not only had yummy apples, but DONUTS....)
In September we took a drive to Illinois, to attend the installation of Des' watermark team-mate Reid as pastor at his first church. It was lovely to spend time with good friends, and was moving to see how God has been busy in their lives.
In October we headed back to Illinois to attend the wedding of Aaron (another Watermarker) It was a lot of fun. We made a reunion of it. We picked up Jenn and her husband Todd in Toledo, picked up Jason in Chicago, then headed to Chrissie and Reid's to stay. We then hired a van and drove down up to the wedding in Wisconsin (which was 2 hours away). There was much merriment en route, and it was hilarious rolling up to the church in the van and seeing Aaron's family's reaction. We also made a van exit, so Aaron could get the benefit of the joke. Surprising how little practice it took to return to our former merry ways. Jill was sadly missed though.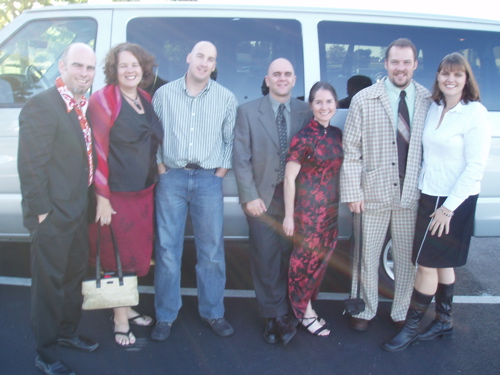 On the road again...
Sam has become very fond of pirates this year. That was his Halloween suit. He was very excited about his costume. Kevin's uncle dug up suits for us too, so it was once again a family affair. Des is still small enough that she had to avoid being given candy by well-meaning residents. We went out in Orrville and in Mentor where we live. In Mentor it was a real community event this year since it was a warm night, and the streets were buzzing. Being at home has allowed Des and Sam to meet a lot more of the locals, and so was lovely to have the chance to catch up.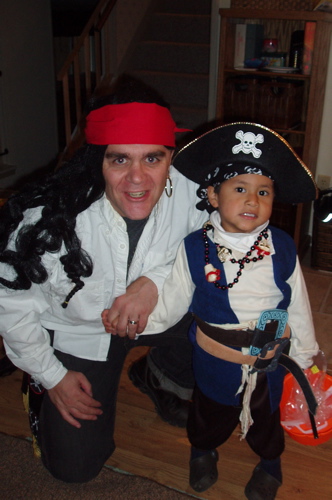 "Arrrhhggg!"
November was filled with raking and winterizing tasks, and now we sit with a couple of inches of snow on the ground. Sam has no fear of the cold, so no doubt we will be out visiting dump-trucks and excavators working at the end of the street for the next month or so.
Dump trucks on my own street!
This year has also been a year of waiting. In February, we accepted an adoption referral for another little boy. We have been waiting since then for things to be processed over there. It is a politically difficult time for Guatemala, and for adoption in general, so it has been a fair bit slower than Sam's adoption. Jordan turned a year old on December 5th. We hope and pray that things will come to a conclusion soon. There is something tough about the fact that there is no 9 month time frame with adoption. It helps that we believe that God has a timeframe in mind......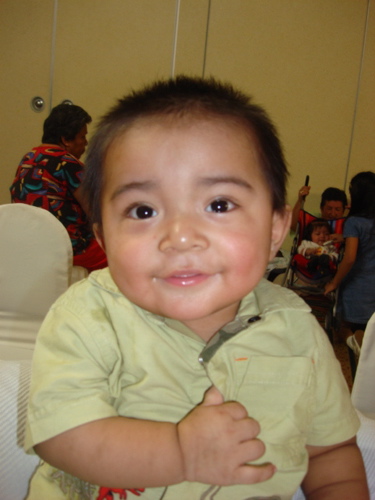 Brother Jordan
Kevin continues to work at Philips designing CT scanners. His passion continues to be woodwork. Sam also has learnt about many tools and can tell you in detail about the merit of the mortice and tenon joint and the peril of the butt joint. Des is now at home full time. We continue to love music, but have had a year off this year from any major commitments.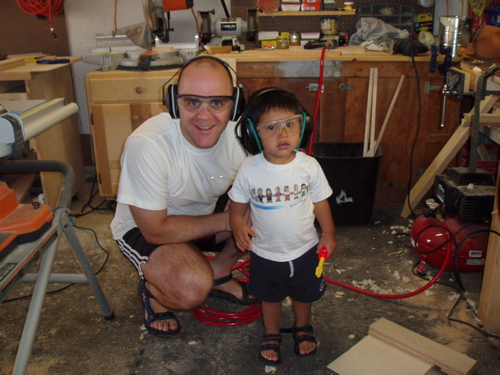 Wood-guys at work.
Not much else to report at present. Hoping to write to you of a new family member next time.
God bless and keep us all meantime,
Love, Kevin, Des and Sam
| | |
| --- | --- |
| | |
| Views at our house in summer... | Fall.. |
p.s. - in case you missed the letters from the past few years, you can find them all here.