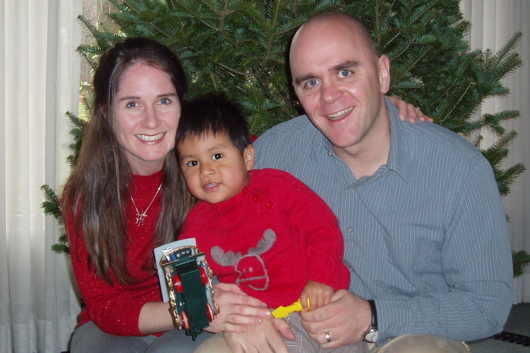 Merry Christmas!
Here we are near the end of 2006. Praise God for a wonderful first year with our dear son. As you can see below, we are making good use of our digital camera this year... and Sam gives us many opportunities!
The first event of the year was Sam's baptism. It was early in January, on the day Des' Mum, Rach and Colin flew back to Australia. It was special to have them present for that event, along with Kevin's family.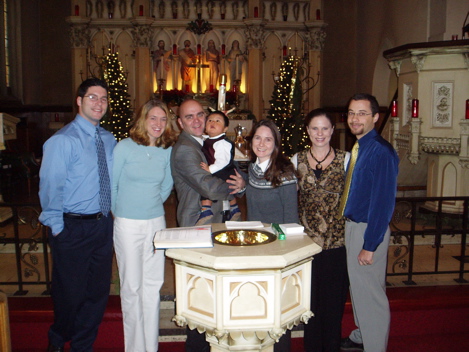 Sam, Mum & Dad, and godparents.
Sam really was the main ongoing event for us this year.... so here's a bit (ok - actually a lot!) about him.
Sam went from needing some help to sit to crawling in a matter of weeks after we got him. Looking back now, it was most likely motivated by his drive to see/touch/test and rearrange his world. He is already shaping up to be an engineering type, with some strong organizational preferences, and an early vocabulary which consisted mostly of "Brmmm Brmmm" whenever he saw a motorized vehicle.
| | |
| --- | --- |
| | |
| Daddy starts Sam on tools... | ...while Mum teaches safety. |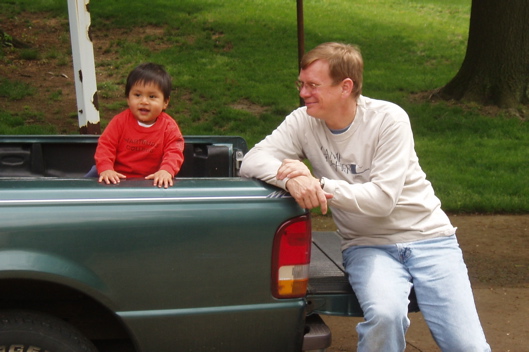 Investigating Grandpa's truck.
He remains a big sturdy boy, strong as an ox. He is developing well in all areas, is a clever little mischief-maker, and is now running around the house, and chatting up a storm. He is very partial to music, especially live, and much to our joy and amusement, has quickly become the most dedicated shaker player in the house. He requests "Di-taa" (guitar) every night when Daddy gets home (usually as Kevin walks in the door) and then will shake like a champion on one of the many shakers we now have around the house.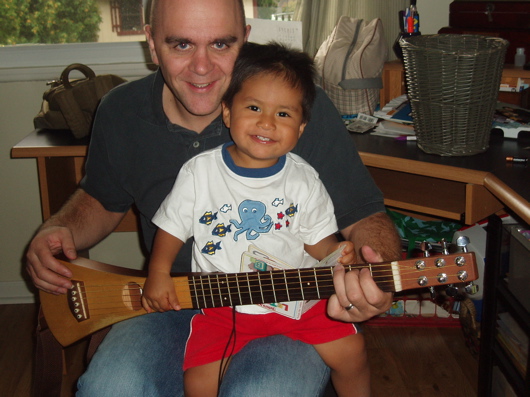 Di Taa!!
His other current loves are Elmo, Screwdrivers, Beans & Broccoli (really!!), Pie, selected Kids CDs, Snowboots, the moon and stars, raking leaves, and investigating and helping out with just about any job his parents try to accomplish. As you can see, he has grown up fast this year - we love him much, and hope we can keep up with him next year!
| | |
| --- | --- |
| | |
| Hope he mows in 10 years... | Always helping... |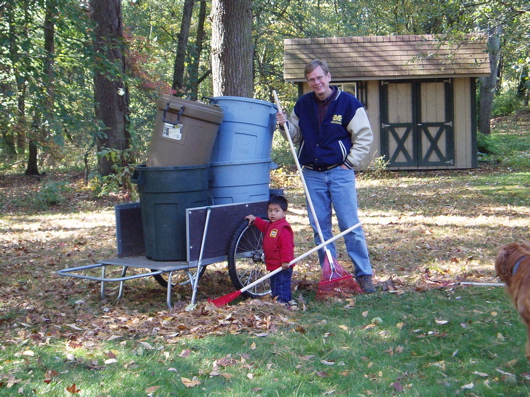 Grandpa gets some help too.
Parenthood has suited us very well in many ways. Although most things are accomplished at a slower pace than before, there is much joy in the process. And speaking of process... we are in the midst of paperwork for Baby #2. We have said we are happy with a boy or a girl, so God-willing, we'll see what the Guatemalan stork has for us in the next year.
And... speaking of storks.... Both of our sisters both delivered healthy babies in this past year. Des' sister Rach had a baby Girl (Kaitlyn Emily) in May, and Kevin's sister Karen had a Boy - Kaleb Matthew - in June. Rach's baby was about a month earlier than expected, and Karen's on time, but about 3 pounds heavier than expected! Both are happy and well.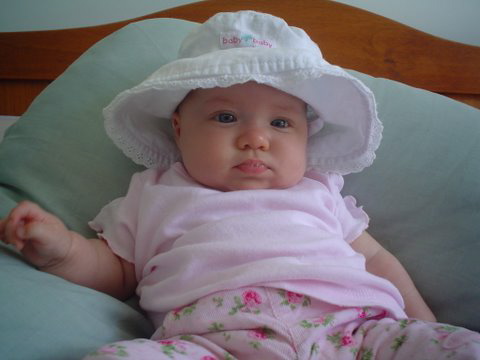 Baby Kaitlyn.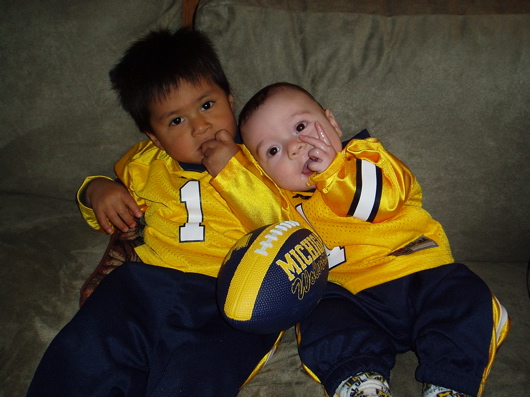 Sam loves his cousin Kaleb (note the striking resemblance).
Des' sister Jo visited with her husband Scott and their youngest daughter Anna, in May. Lovely to see those two youngsters playing.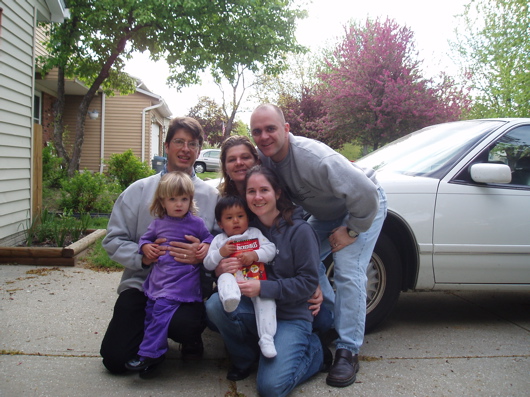 Scott, Jo, & Anna visit.
And we caught up with Scott and Clara at Summer camp. Brave Karen and Matt took 3 week old Kaleb to Luther this year and he was baptized there. We were also able to bring Desley's godson Micah along with us, and he enjoyed the full Camp experience.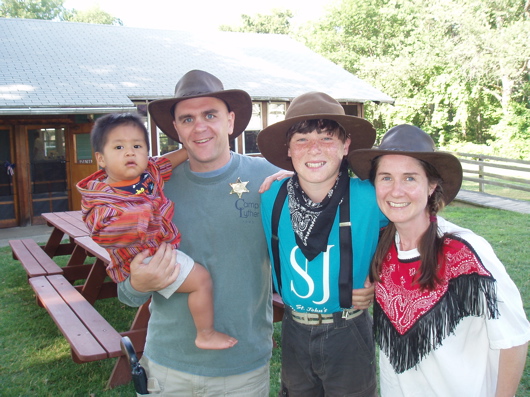 Wild West Lunch.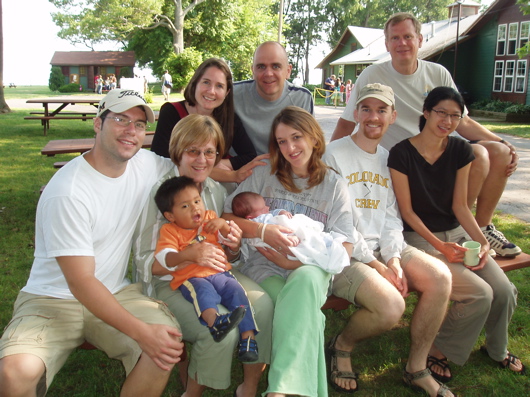 Everybody Together.
We are fortunate to live close to Kevin's family, and we have enjoyed many activities, birthday celebrations, and simply time together. Grandma and Grandpa have embraced their roles enthusiastically, and have showered much love and attention on Sam and Kaleb.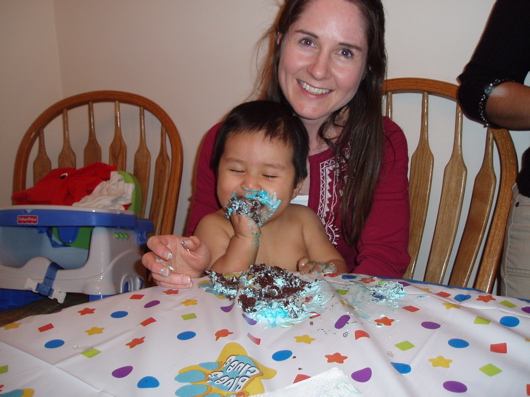 Sam's first Birthday Cake.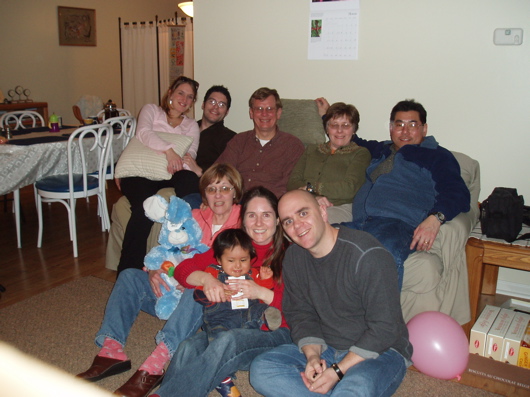 All the family here for Sam's first birthday.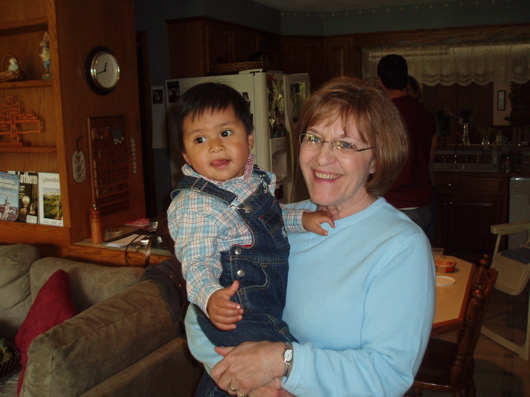 Grandma gets some quality time at Easter.
We have enjoyed some great times with our friends this year, old and new. We are blessed to have a good number of friends who have adopted, and a good number who are from different countries. It not only makes for a wider understanding of how God lives in and among all the people of the world, but also for fun looking group photos.
Sam with his Guatemalan buddy Wes. Which one is which?
We also had the chance to catch up with Desley's Watermark Teammates (and their families) in Arkansas in February. It had been 10 years already since they traveled through the U.S and Europe together - amazing how time flies.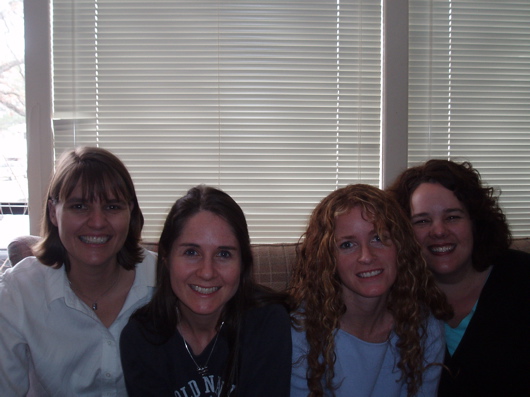 WM-WM lives again!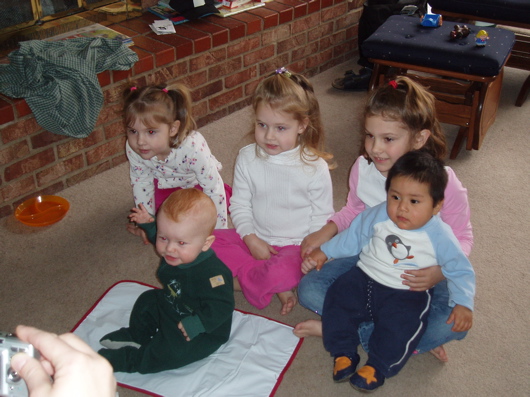 Watermark, the 2nd generation!
Des has spent most of her time at home looking after Sam this year. She's loving it. The way she put's it, is that she feels like a fish who has found her water.... She was also busy with the R.H. Beh Memorial Garden this summer, and had plenty of help tending it. Sam was absolutely thrilled at the prospect of being able to pick vegetables, and being somewhat indiscriminate, culled the tomato harvest by about a third. Her other big project has been planning a trip to NZ/Australia with her family in February. She has a cunning way of working these things out so that she is home down-under for her Birthday...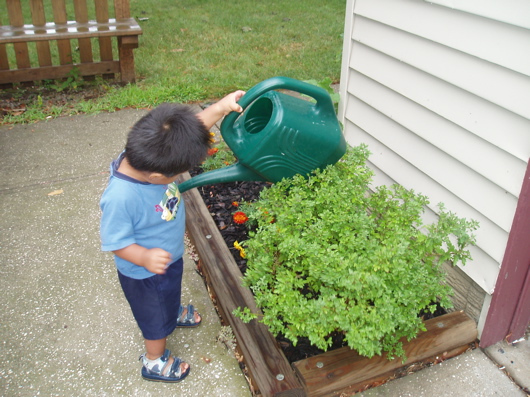 Water comes out the other end...
On a sadder down-under note, Des' Nan (Beh) went home to heaven this year in November. She had been deteriorating this year, but nonetheless died unexpectedly in her sleep. At least a peaceful way to go. Kevin's Grandfather passed away as well earlier in the spring, and though we couldn't make it out to Arizona for the funeral, we did have a good visit from Kevin's Grandma in the fall. We will miss them both, and wait with patience for Christ's banquet feast.
Kevin continues to work at Philips CT, and although his real love is woodworking, seems to be doing well there. He hasn't needed to travel as much this year, which has been nice. This year's DIY project was re-doing the kitchen countertops, the sink, painting the cabinets and finishing & installing new doors. The whole thing required different strategies to keep Sam from getting into stuff, but it turned out well.
| | |
| --- | --- |
| | |
| Out with the old... | ...and in with the new. |
Much easier to keep Sam away from the top...
With a lot of help from Grandma & Grandpa minding Sam, we also played our Christmas concerts with Searchlight again this year, which was a joy to us. (see searchlightensemble.com for more images of this year's show and some "serious" musician photos).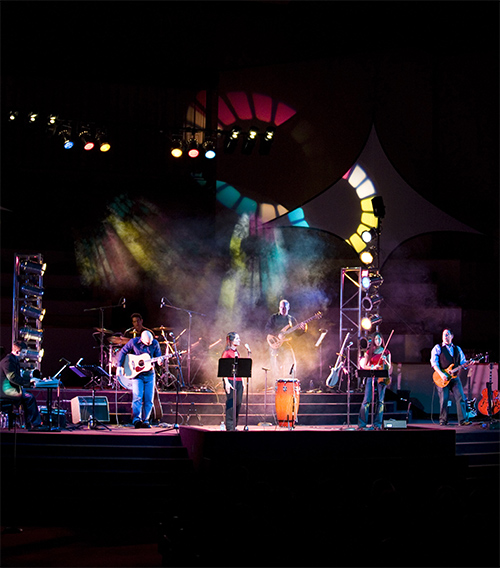 The Searchlight Ensemble in Akron.
That pretty well hits our main events for this year.
Praying God's blessing on one and all in the New Year.
Love, Des, Kevin and Sam....